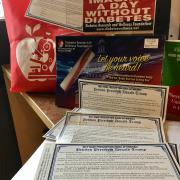 Please join us in our effort. Help make prescription drugs affordable.
DRWF and other like-minded organizations are joining together to produce a Diabetes Rally this November. We are taking a united stand. We are looking for volunteers in all states to sign the below petition and return the petition back to us. We will present the petitions in November. Check back for more updates.
Download and Sign the petition
Please email the Petition.
OR MAIL the Petition to:
DRWF - Petition
1832 Connecticut Ave, NW
Washington, DC 20009